Your paving questions answered
There is a lot to think about when choosing and looking after garden materials. Cliff Mosey, business partner for quality, answers some of our most common questions, to help you feel confident about your choice of garden materials. If you can't find the answer to your question below, contact us, and we'll be happy to help.
What kind of paving stone should I choose?
Natural stone has long been a very reliable paving option. Just think how long some of the natural stone paving has been down in London and Rome. With the increased range of imported natural stone it is now a very affordable option.  Natural stone paving also used to be supplied in varying thicknesses but these days most of it is calibrated, making it easier to lay.
Natural stone has natural blemishes, veining, fossilisation and variations in colour that all add interest to your paving.
Porcelain paving is popular because of its durability and the extensive range of designs available for inside and out including natural stone and wood effects. The stones are harder, denser and less porous than natural stone so need little maintenance. Manufacturing processes ensure the quality and consistency of the product.
Concrete paving tends to have less colour variation and there is a good range of colour options available. Virtually all of the concrete paving we supply is manufactured within the UK.
How do prices compare?
All products are available at a range of prices, with comparable stone and concrete products often being around the same price. For the lowest budgets, concrete can be a good option, and for high end luxury, natural stone and porcelain.
I want to extend an existing patio, how do I know which slabs to use?
We suggest you bring in a sample of your existing paving and we will try and find the best match for it. With our many years experience, we can often identify previously laid and weathered slabs. If it is a discontinued item or one not within our range, we will try and suggest a closest match. Be aware however that even matching with the same paving will show up, as the slabs will stand out new against old. This will lessen as the new paving weathers.
If you are unable to bring in a sample, we will try our best to identify the slabs from a photo, although this is sometimes quite difficult especially with more weathered slabs. Alternatively you can pick up or order a sample of our paving to match up with your existing paving, or buy a single slab which you can return if you need to.
What is different about porcelain paving?
Porcelain is a great low maintenance paving choice because it is so durable and doesn't need extra treatments like sealants during installation. We recommend laying porcelain with a traditional method on a full bed of mortar over a compacted sub-base. Use a slurry primer on the underside of each slab. This creates an adhesive seal between the slab and mortar bed. Ensure a minimum joint width of 5mm. And if making cuts, you will need a diamond blade for porcelain.
For more details see our porcelain product guide.
Can I seal my patio/driveway?
Sealing natural stone can be a great way of protecting your investment from common problems like stains and weather damage. Certain sealants will also enhance the appearance of stone and reduce fading over time.
When to apply sealants:
You can apply sealants before or after installation.
If you are using a non-breathable sealer after installation, we advise waiting for a minimum of six months after the paving is laid. This means that all moisture and salts can come out of the paving first. Sealants are generally best applied during the warmest and driest months, usually between May and October, though not in very warm weather.
Some breathable sealants can be applied to paving as soon as it is laid. This is because they allow moisture to pass through.
Always seek professional advice before applying.
What to expect:
You will usually need to reseal pavers every 3-5 years if using a water-based sealer and 2-3 years if using an acrylic sealer. When resealing pavers, be sure to use the same sealer that you originally applied to prevent an adverse reaction between two different products (this will spoil the finish).
The finish of the sealer will depend on the type of stone, with less porous stone holding a glossy finish more easily.
Joint-stabilising sealers like Easy Seal BCS can have the added benefit of reducing weed growth and damage to jointing from weather and insects.
We offer a pre-sealing service for natural stone so when your paving is delivered, it is ready to install in any weather. This can also help prevent problems during installation.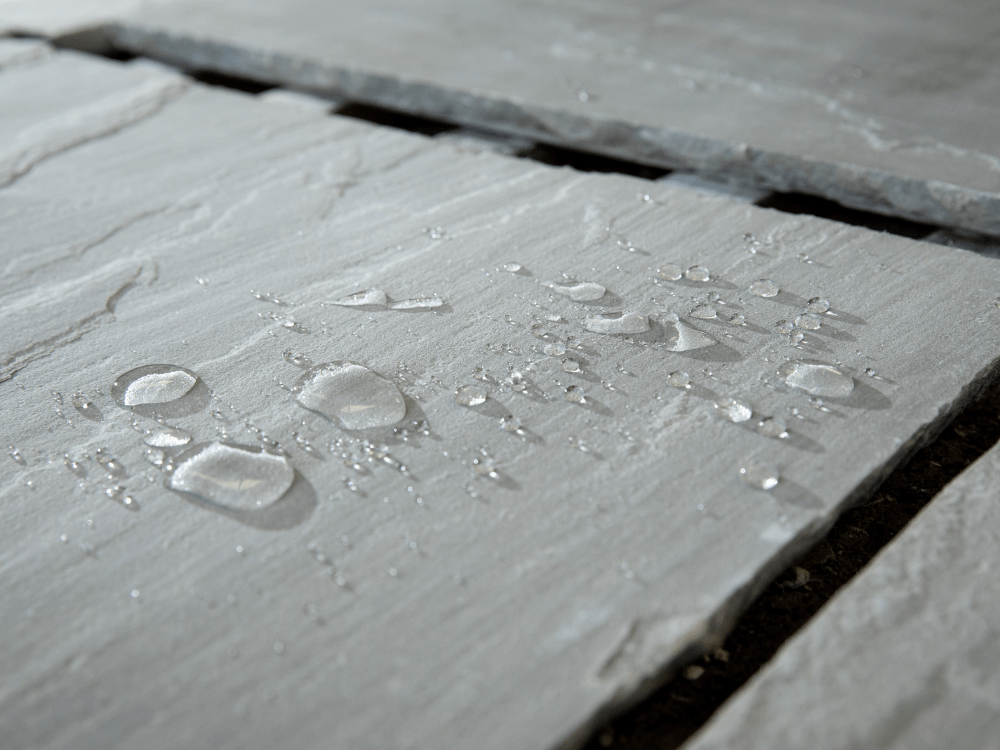 Will my paving slabs weather or change appearance?
All paving slabs will weather to some extent once they're laid. This is due to algae, dirt, grime in the atmosphere, and overhanging trees. Keep on top of this by regularly cleaning your paving. Take care if using a pressure washer as it can damage paving surfaces and pointing.
To protect from stains and maintain the colour you can seal your slabs with a specially formulated sealant. Some sealants can change the colour/appearance of the slabs so try a small test area first in case you don't like the effect! Always seek professional advice.
Will my slabs have colour variation?
You should expect some variation in colour shade with any paving product, whether it is natural stone, porcelain or concrete. These can be made worse by site conditions, natural curing and weathering. Where using more than one pack of paviours, we always recommend mixing them to achieve a consistent, balanced look.
When using natural stone products, no two stones will ever be the same. Each can have different shades and individual characteristics. However some types of stone have greater colour variation than others. This is a quality that can enhance the character of a natural stone patio.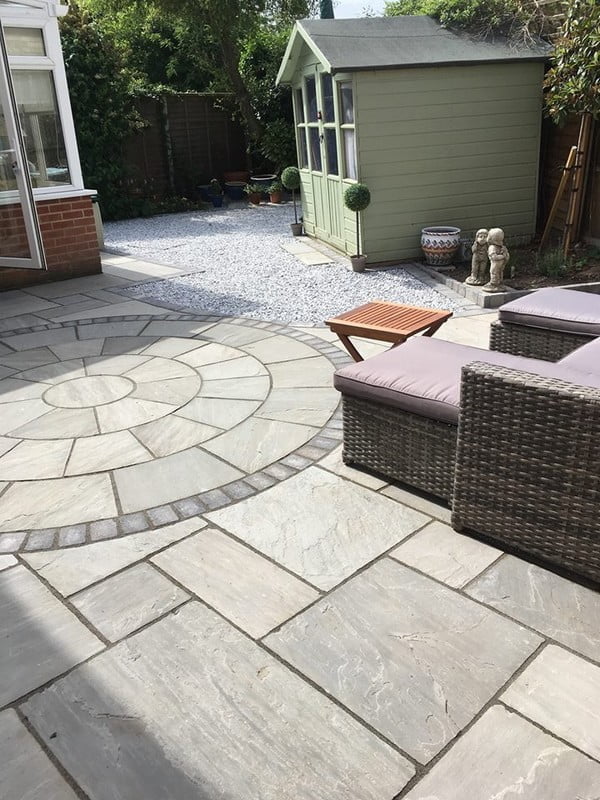 What is the white/milky deposit on our recently laid paving?
Blooming, efflorescence and 'salting' are chemical reactions often found in concrete and some natural stones. Naturally occurring salts or deposits in the paving are dissolved in water and make their way out to the surface of the slab. The result is white patches which can be powdery or crystal-like. It can occur spasmodically over time and is more likely when paving is wet and takes a long time to dry.
You can usually treat efflorescence easily with a specialist garden cleaner. Always seek professional advice.