Description
Raj Green Sandstone paving is a hugely popular choice for its olive green, brown and grey shades and its natural veining. This natural Indian Sandstone, also known as Raj Blend paving, has a natural lightly riven texture with handcut edges. Raj Green paving can give a stunning traditional finish and can also suit contemporary designs. Like all our Natural Stone Trade Packs, we carefully source this stone to give you outstanding quality and value. Slabs are calibrated to 22mm, giving them an even thickness. This makes laying easier. Raj Green Sandstone is available in a convenient mixed size patio trade pack. Each trade pack covers 15.3m2 and contains 13 of 900×600, 13 of 600×600, 13 of 600×290 and 9 of 290x290mm slabs.
We can pre-seal this product for you.
Matching circles, setts, walling and edging are available. Trade Pack laying pattern: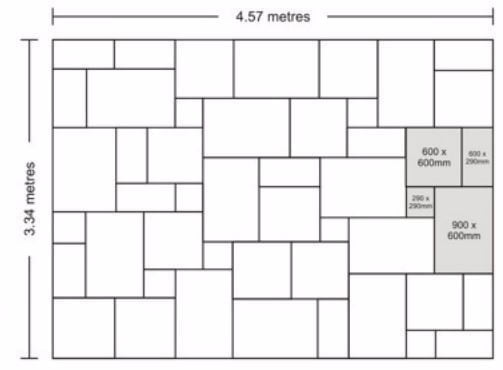 All sizes are nominal.
How many paving slabs do I need?
Why buy Kebur Natural Sandstone?
We thoroughly check our sandstone to make sure our customers receive the very highest quality. Unlike cheap sandstone, this means your paving slabs are fully inspected for:


square edges


uniform thickness of 22mm (which means quicker and easier installation and a stronger slab)


even texture without excessive riving


consistent colour variation
Your sandstone will also come carefully packaged to avoid breakages. If you do happen to find any broken slabs on delivery, we'll replace them straight away.
*Natural stone can vary in colour tone and have blemishes, veining or minior chips. These are all unique qualitites that add to