With the right knowledge, skills and materials, you can carry on hard landscaping all year around. There are lots of products available that protect against frost and can be used in sub-zero temperatures, meaning you don't need to let the weather hold you back!
To keep you warm and working this winter, we are giving you the chance to win a fantastic package of products, including Frostproofer, Febmix, rock salt, thermal gloves, and unique Kebur snood and hat.
To enter, simply like our Winter Giveaway post on Facebook or Instagram and share your favourite winter working tip in the comments section.
If you need a little inspiration, see Kebur Landscape Division's Contracts Manager Craig Deeley's top tip below.
"Think about your clothing. Start with a good quality base layer and layer up from there – adding a final waterproof layer in wet weather. Layering creates good insulation and layers can be removed if you get too warm."
The competition closes on 10 January 2022.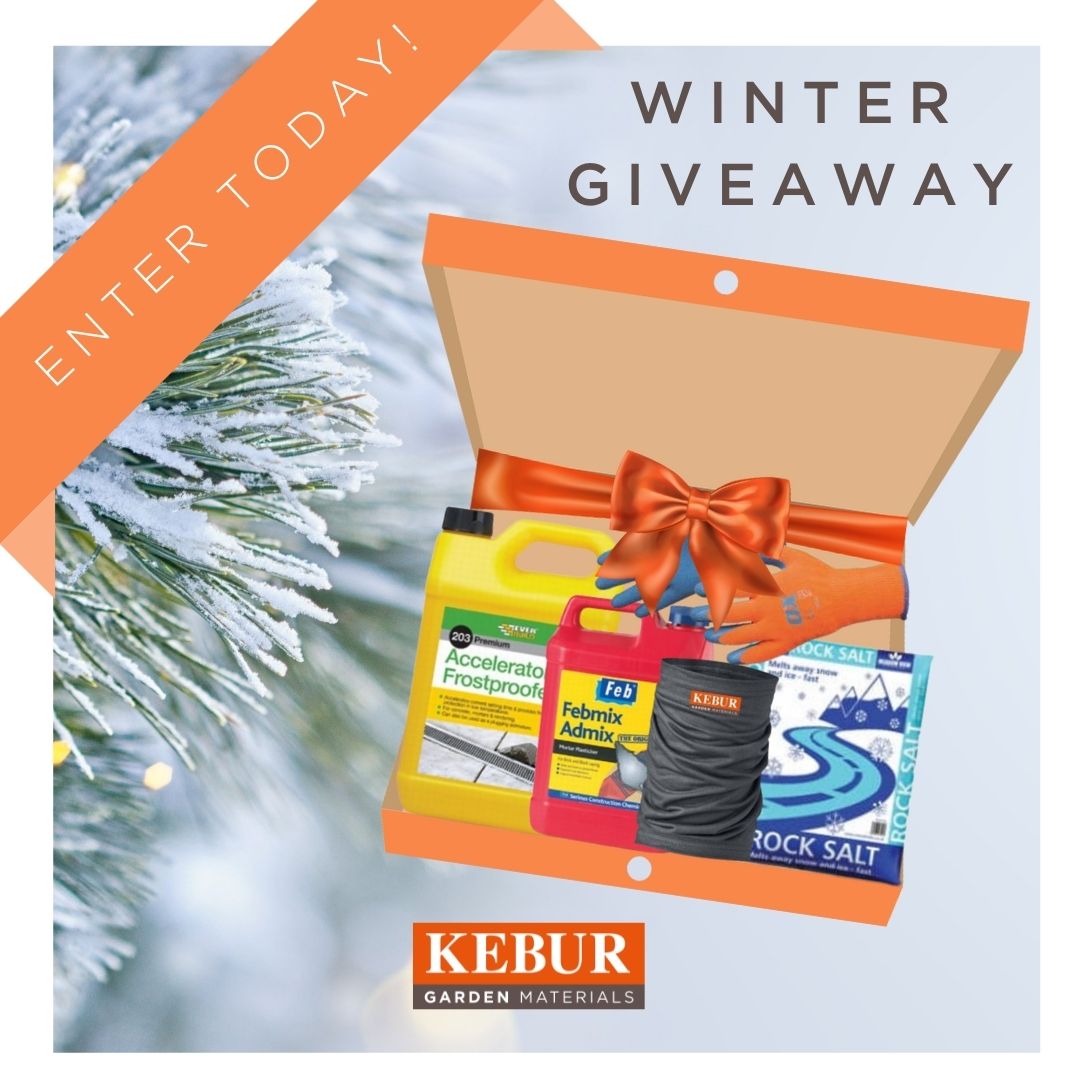 Terms and conditions for the Kebur Winter Giveaway
About the Competition
1.1 Entrants who meet the entry conditions will be entered into the competition and the winner will be selected at random.
1.2 The Competition will be drawn on 11 Janaury 2022 and announced on Kebur Garden Materials' Facebook and Instagram pages in order to notify the winner.
1.3 The Competition is not sponsored, endorsed, administered by, or associated with Instagram or Facebook.
How to Enter
2.1 To enter the competition, entrants will need to:
For Instagram entrants: like the post and share your favourite winter working tip in the comments section to enter the draw.
For Facebook entrants: like the post and share your favourite winter working tip in the comments section to enter the draw.
When and who can enter
3.1 The Competition opens at 8:00 am on Monday 3 January 2021 and closes at 11:59 pm on 10 January 2021.
3.2 Entrants can enter at any point between these dates.
3.3 Entrants can only enter once.
3.4 The Competition is only open to UK residents aged 18 or over, excluding employees and agents of Kebur Garden Materials and anyone professionally connected with the administration of the competition.
3.5 Automated or bulk entries from third parties will be disqualified.
3.6 We reserve the right to exclude serial competition entrants who have entered more than 4 competitions in the last month.
Competition Prize
4.1 The prize for winning the competition will be a package of winter working products (as detailed above) and will be collected from Kebur Garden Materials, Lynchford Lane, Farnborough, Hants, GU14 6JD.
4.2 The Prizes are as stated and they cannot be sold or exchanged for cash, goods or services. The prize is not transferable and must be taken by the winner in person.
Data Protection and Publicity
5.1 You consent to your surname, photograph and basic information about you being disclosed on Kebur Garden Materials digital channels or other media if you win any Prizes under the competition.
5.1 Any personal data relating to participants will be used solely in accordance with current UK data protection legislation. By entering the competition, you agree that Kebur Garden Materials may contact you in relation to the competition.
5.2 Competition winners will be contacted by Kebur Garden Materials to arrange collection of the prize. You must provide accurate contact details on notification.
5.3 Kebur Garden Materials reserve the right to use the photograph and name of the winner for publicity and in advertising, marketing or promotional material without additional compensation or prior notice to the winners.
Competition Rules
6.1 We reserve the right to change the Competition rules and these Terms and Conditions from time to time. If we do so, we will always have the most up to date terms and conditions on the Website and in the case of a discrepancy between these terms and conditions and those on the Website, the Website terms and conditions will apply. Your continued use of the website will constitute your acceptance of the new rules and/or Terms and Conditions.
Liability and Indemnities
7.1 Except in the case of death or personal injury arising from its negligence, or in respect of fraud, and so far as is permitted by law, Kebur Garden Materials and its associated companies and agents and distributors exclude responsibility and all liabilities, whether direct or indirect, arising from:
any postponement or cancellation of the competition;
any changes to, supply of or use of the Prize; and
any act or default of any supplier, which are beyond Kebur Garden Materials' reasonable control.
Jurisdiction
8.1 The Competition and these Terms and Conditions are governed by English Law. England & Wales shall have exclusive jurisdiction to settle any dispute or claim that arises out of or in connection with these Terms and Conditions.
Promoter: Kebur Garden Materials, Lynchford Lane, Farnborough, GU14 6JD