As a long-established family-run business, we at Kebur believe in supporting and connecting with our local community. Over the years we have helped a range of schools, clubs and charities with projects that bring the positive power of gardens to communities.
St Peter's Primary School forest school area – March 2018
Children from St Peter's Primary School in Farnham enjoy learning outside whatever the weather under their forest school canopy. We were delighted to make this possible by donating materials for the canopy.
Kebur Community Challenge award – May 2017
We announced Fernhill School in Farnborough as our chosen winner of the Kebur Community Challenge 2017 (see below). Our donation of £2000 of garden materials has gone to creating a memorial garden for Stacey Burrows, who tragically lost her life aged 16, while running in Aldershot.
Kebur Community Challenge
Every Spring since 2009 the Kebur Community Challenge has taken place in association with 96.4 Eagle Radio. Schools, clubs and societies are invited to enter with ideas as to how they could use £2000 worth of garden materials to improve their facilities.
The Winners :
2017 Fernhill School (Farnborough); memorial garden for Stacey Burrows
2016 Sebastian's Action Trust (North Waltham); pathways for a respite home for seriously ill children
2015 York Road Project (Woking); helping the homeless and creating a community garden
2014 Weybourne Infants School; wildlife learning area complete with summerhouse
2013 St Michael's Project Group (Camberley); community gardens
2012 Cove School; gardening and eco club built vegetable patches/raised beds
2011 Change of Scene (Rowledge); laid pavement to prevent children having to walk through mud
2010 Ticehurst Nursing Home (Aldershot); improved garden and paths
2009 Hawley Scout Group; fenced off area to make camping safe, built rockery for climbing
Day service garden – May 2017
We were pleased to donate much-needed landscaping materials in May 2017 to our friends Parity For Disability for their local day service garden for people with profound and multiple disabilities. We think the garden looks fantastic.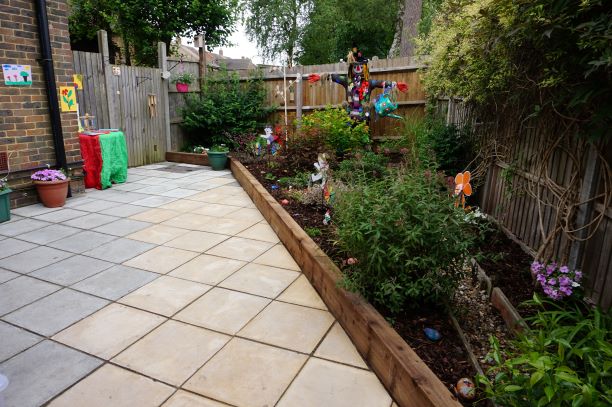 Community Consideration award finalists – April 2016
Kebur attended the Eagle Radio Biz Awards at Great Fosters in Egham and where finalists in the Community Consideration Award.
Christmas jumpers for Parity – 2015
Kebur wanted to raise money for a charity local to us. We chose to do a Christmas Jumper Day for Parity which is based in Farnborough and Camberley. Parity provides services for those with multiple disabilities. All the staff at Kebur dressed up and sold some cakes and sweets to customer. We managed to raise £155.35 for Parity!
Supporting Phyllis Tuckwell – 2015
In 2015 Kebur took part in a number of charity events, one included raising money for Phyllis Tuckwell's Trade Fortnight. For each bag of cement sold Kebur donated 10p to charity. At the end of the two weeks the staff tallied up the cement sold.  Cliff, Tony, Ellie and Christine (pictured) handed over a cheque for £250.00 to Paul Peason from Phyllis Tuckwell!